North American Palladium's
Lac des Iles
Mine Site
May 2006

What is Palladium?
Boart StopeMaster.
Percussive drilling rig.

Getting ready to grout the ceiling.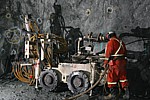 The Buggy.

Boart Long Hole drill.

Now you see me...

...and now you don't.

The underground mine entrance is...

...near the bottom of their open pit mine.

500' from top to bottom.

The scale around here is tough to capture.

Tree harvesting operations ->>